"Work and play are not polar opposites. They can be part of the same dynamic. We can be playful as we accept to work with levity and joy."
Right after I posted my last post on play, a friend, who was kindly encouraging me to live my life's purpose, sent me the poem I am posting today about work.
I took it as a sign to think about work and play, not as polar opposites, but as part of the same dynamic.
We can be playful as we accept to work with levity and joy. In both play and work, we can connect to our creativity and with the joy of nourishing our passion. Both can be an investment into something that inspires us and helps us grow. Both can connect us to the joy of our uniqueness as we develop and nurture our talents and gifts. As we do, we might discover what we have to give to the world–the special contributions we might make to others.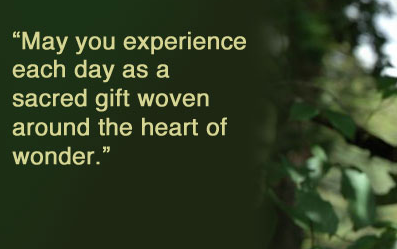 Here is the poem, May the Light of the Soul Guide You, by John O'Donohue.
May the light of your soul guide you.
May the light of your soul bless the work
You do with the secret love and warmth of your heart.
May you see in what you do the beauty of your own soul.
May the sacredness of your work bring healing, light and renewal to those
Who work with you and to those who see and receive your work.
May your work never weary you.
May it release within you wellsprings of refreshment, inspiration and excitement.
May you be present in what you do.
May you never become lost in the bland absences.
May the day never burden you.
May dawn find you awake and alert, approaching your new day with dreams,
Possibilities and promises.
May evening find you gracious and fulfilled.
May you go into the night blessed, sheltered and protected.
May your soul calm, console and renew you.