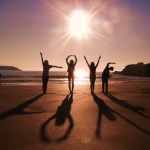 Live the true meaning of the word "yoga" –communion with the divine, unconditional love that is the essence of all life, of joy, and of well-being!
My unique approach to yoga integrates a variety of mind-body practices. Learn tools, tips & techniques that can help you in everyday life.
My workshops and classes help you balance body, mind, spirit through…
body awareness & postural alignment
using the breath
the cleansing of cellular memory
the release of trauma (physical or emotional)
acceptance of love
the cultivation of inner radiance for healing
stretching, strengthening, and relaxation
guidance for a greater sense of well-being, a healthier life, and stress management
Contact me for class times in Jerusalem and Tel Aviv or to make your own class.