The purpose of life is to learn and live a higher love.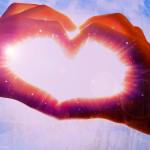 Whenever I talk to people about well-being or healing, I always point out that Love is a prerequisite for both. One of my clients recently asked me to be more specific. What exactly do I mean by love being the foundation for a happy, healthy life as well as happy, healthy relationships?
What exactly is the work of Love?
Simply put, it is allowing for Love to come first in everything. It is surrendering not to a higher power, but to the highest expression of life, reality and self. It is making a commitment to live life as a holy endeavor, a sacred experience.
Living tuned means living in tune with our own divinity, with the essence of life and of our own lives–with nature including our own nature.
This implies dedication to being a more loving person in every way.
The most important law of nature to follow is the LAW OF LOVE. It is the foundation, the law that precedes all laws. If you learn to love, all else will be put "right" and all your needs will be taken care of.
As you "let go and let God" rather than trying to manipulate the universe to get what you want, you surrender to the Higher Will for you. The universe or nature or God knows better than you do what is most beneficial for you, and for all life every where.
The more you love, the more you are in harmony with the Law of Nature. The more you are in harmony with all life and with yourself.
Learning to love means accepting to be one with the highest Will, with the greatest good for yourself and others.
As you do so, you are able to love your neighbours as yourself.
That means that you accept to love yourself fully first—your shadows and shortcomings included. Then you can accept and love others as they are and not how you would want them to be.
You can love everyone no matter what—even your "enemy"–whether or not they are capable of love or whether or not they love you back.
In your meditations and/or prayers, ask to be shown how to do unto others as you would have others do unto you.
Ask to forgive yourself and others for whatever exists within that is absent of love, for whatever was done without love. Bless and ask to heal all that within yourself and others that still hates, judges, blames, or condemns.
Everyday, in a constant, ongoing process of acceptance…pray, bless, and work on the ways that you don't love yourself or others. Work on accepting your darkness and the darkness in others and in the world because you realize that everything is exactly as it needs to be for all to grow and learn to love more.
Ask to bless and heal your "impure" motivations—the ones that come out of your wounds, your wanting because of feeling you lack, the residue of the past, your judgement. Pray for a refinement of the desires that are rooted in the ego, in the shadow and which are not in harmony with the Law of Love.
As you do the work of love, you begin to understand that there is order to the universe, that everything and everyone has their own reason and purpose. And so you nurture a greater reverence for life, for the lives of ALL others and for your own life.
As you do the work of love, you become aware that the purpose of life is to learn and live a higher love.
image source: http://thislifeasiloveit.blogspot.com/