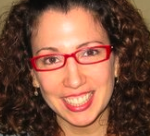 About twenty years ago, my longing to make the world a better place and the need to heal my ailing body catapulted me on a long and challenging journey.
From this search, and through many years of work, my Ph.D. and a lot of other studying, travel and practice, I developed an approach to well-being that I feel inspired to share.
I worked for businesses, organizations and as a college professor designing and facilitating educational programs, workshops and classes that focus on cultural and intercultural awareness, emotional intelligence, social change and well-being. I have taught college courses on media studies, "green living", education, cultural diversity and social psychology.
As I struggled to heal myself from chronic pain, "fibromyalgia", and physical imbalances caused by a car accident, I tried all kinds of therapies, became a yoga teacher, studied meditation, nutrition, anatomy and various mind-body approaches to well-being.
I learned that you can't just get rid of pain or illness–whether physical or emotional. Although we often try to escape our discomfort, healing is a holistic endeavor–mind, body, heart, spirit.
I soon applied this experience to others–facilitating their healing and wellness.
The struggles for revolutionary changes, identity and history in the places where I lived, traveled and worked–Mexico, India, South Africa, as well as Quebec, where I grew up–inspired me to question how sustainable, healthy transformations could take place. Especially since revolutions often reproduce the old ways. I wondered how to bring about something new.
Obsessed as I was with healing, I became aware of the power of love as a transformative force–on both a personal and collective level.
My commitment to love ultimately led to the restoration of my well-being and to a renewed sense of inner joy and inspiration. It helped me attune to my unique purpose, gifts, and potential contributions and showed me that by living my best self, I could make a difference. You can, too.



I began to study the role of love in social movements–something great leaders like Martin Luther King, Jr. and writers like bell hooks have talked a lot about. The exploration of love–of kindness, forgiveness, respect and reverence for life–became an undercurrent of all my work and teaching.
To read more about my personal struggle, check out this article published in various Postmedia newspapers: The Spark of Love Brought Me Out Of the Dark Valley of Pain.